Ignition Cables Sets | Products
FLASH ignition cables and cable sets are marked for their quality by the International Organization for Standardization with ISO 3808 standard for the cable and ISO 6856 second edition 1990-05-15 for the entire product.
Careful top quality component selection on offer world wide, respecting standards, strict control of the manufacturing process, have all enabled us to offer a 3 year guaranty on our product.
Our partners are world-renowned cable manufacturers (General Cable USA and Madison Wire England) who also supply leading brand manufacturers (Bosch, Beru, Facet...) FLASH ignition cables will give you the same or higher quality as the leading brands but at considerably lower prices. The reasons for that are our company policy and low labour cost in our country.
WIRE WOUND FERROMAGNETIC
Water-resistant 100%
RFI-EMI resistant
Full silicone
Class F
Exploitation level from -50°C do +250°C
Electrical resistance 5600 Ω/mm
ISO 3808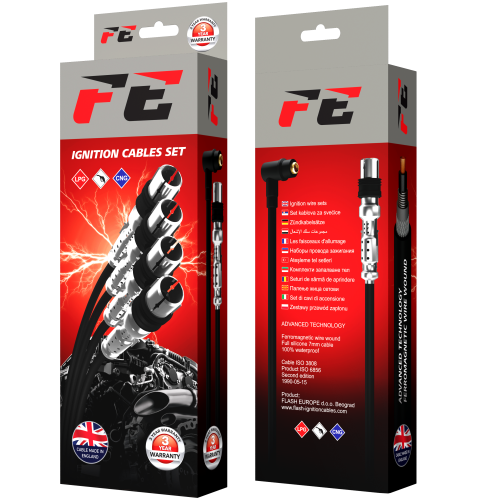 Specifications: